On My Shelf: Favorite Book Covers
You may remember the old adage: "Never judge a book by its cover." But sometimes, a beautiful cover is what draws readers to it. I am no exception. Today I am sharing with you some of my favorite covers from my To Be Read shelf, and along with this I'm going to give you a little story for each book as to why I bought it (other than the book cover itself). Shall we begin?
As of today, these are my favorites off of my TBR shelf.
Book One: "The Complete Sherlock Holmes" collector's set
This is a four volume collector's set of Sherlock Holmes, and it is gorgeous! All of the books have different color edging, such as silver, gold and teal. The second picture shows the collector's case it comes in which has a magnet built into it to keep it closed. I actually found this at my local bookstore (which has, unfortunately, gone out of business since then), and teal is one of my favorite colors, so I was instantly drawn to the collector's case, but when I saw it was Sherlock Holmes, I immediately had to have it. I'm not a huge fan of the movies with Robert Downey, Jr., but I am a big fan of the BBC series with Benedict Cumberbatch, so I was ecstatic to add this to my collection. I almost don't want to read it because the books are so beautiful, and I put books through hell when I'm reading them.
Who is your favorite Sherlock?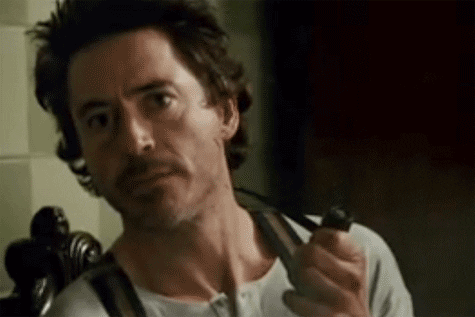 Book Two: Grimm's Complete Fairy Tales (collector's edition)
I am about to tell you something that will blow your mind! I got this beautiful, gold edged page book for only $5. That's the honest truth! The local bookstore I mentioned above would have sales on used books (which this was one of the used, luckily), where you could get 5 used books for $25 - there wasn't any catches, you just had to make sure that each used book you chose were normally being sold above $5, otherwise you were being charged more... if that makes sense to you. I was drawn to this book because it's the Brothers Grimm, it just so happen to have a beautiful cover and gorgeous illustrations inside. This is another one I don't want to read because it's so beautifully made.
Book Three: "The Most Dangerous Animal of All" by Gary Stewart & Susan Mustafa
And debuting my munchkin cat, Cisco, reflected in the cover
I just love that the book cover has the reprint of a portion from the Zodiac's letters. If you don't know of the Zodiac killer, it's an unsolved serial murder case that took place in California during the 1960s and 1970s. It is the most prolific unsolved serial killer case. I actually bought this one while I was working at an entertainment store where we had a pretty big book section, which is where I was working most of the time. We did a thing called 'buybacks,' which is where customers could come in with books, video games, etc... and sell them back to use for either store credit or cash. I would be the one who would inspect books when they would come in because the store was very picky about what books we would buy back. One man came in with this book and a bunch of DVDs, so when I saw this one, and noticed it was about the Zodiac killer, I snatched it up (one of the great things about working there was that workers got first dibs).
With all of that said, this probably shouldn't be on my TBR shelf because I have attempted to read it before, but unfortunately, it is very boring to me. I will try to read it again another day and see if I can get through it.
Book Four: "Freefall" by Jessica Barry
I just love the cover of this one. I recently added this one to my TBR shelf, and it had been on my wishlist for a long time, and now I finally have it. This one was solely bought based on the cover, to be honest. All I did was make sure it fell under the genres that I know and love. I got this one for free with my reading reward points on Thriftbooks (stay tuned because I will be reviewing that online bookstore soon!).
Book Five: "Shutter Island" by Dennis Lehane
I actually hadn't known that 'Shutter Island' was a book! The movie is one of my favorite horror films to watch, and I truly believe that Leonardo DiCaprio gave a stellar performance in it. If you love psychological thrillers, then I definitely recommend you watch it. So, I'm looking very forward to reading the book because the book is usually better than the movie.
I got this book as a Christmas gift in 2018, and I love the fact that the title appears to be taped onto the book (it does literally feel like masking tape). The spine also has the tape feel and look, too. Very unusual, and I love it.
Book Six: "Ghostly Tales: Spine-Chilling Stories From the Victorian Age"
I am a sucker for anything from the Victorian era; I love the aesthetic and the stories that came out of this era are some of the best horror stories ever written. Victorians were obsessed with death (see Edgar Allan Poe) and spiritualism started to rise (think tarot readings and crystal balls)- - - this is everything I love and live today. So, when I saw this on Modcloth.com two or three Halloweens ago, I had to have it. And as you can see, the illustration, even just this one, is gorgeous and very Victorian. I can't wait to read this one!
Book Seven: "The Dark Tower" series by Stephen King (collector's set)
When I read "The Gunslinger," which is book one of the Dark Tower series, I was hesitant because even King said that he hated the first book, but it was the ending of it that hooked me (I will be rereading it for the blog, so don't worry!). I was going to buy each book individually as I finished them, but my husband decided to take it upon himself and bought me the entire series in a collector's set! I love how the books line up in the case and you can see the tower getting bigger and bigger. Also, each individual cover it beautiful. If I had seen this myself, I would have gotten it.
Book Eight: "The Gates" by John Connolly
I honestly bought this one used because of the cover. I just love the little demon hanging between the opening of the gates. It reminds me of Neil Gaiman book covers because it's horror, but it has a childish way about it. I don't have much else to say about this one.
Book Nine: "Zodiac" by Robert Graysmith
I bought this one while I was working at that entertainment store I mentioned before. I'm a huge fan of the movie with Jake Gyllenhaal, so I was excited when I saw that we got a copy of the book in store. I do like the cover for this one because I feel like the fog going over the Golden Gate Bridge is sinister and foreboding, which is how the Zodiac killer was - - - he held California captive with his murders, so I can't wait to read this one.
Book Ten: "The Green Mile" by Stephen King
This one was only bought because I absolutely love the cover! I already owned a copy of 'the Green Mile' when I saw this one while I was working in the book department (I was actually stocking this book when I picked it up for myself). The picture can't do it justice because the green is actually a really deep teal, and the backdrop is black, so just those two colors put together are one of my favorite color schemes. And I also love the electric chair, which I think sums up the 'Green Mile' completely. I haven't read the series, yet, but I love the movie, so this is another one I can't wait to read.
Book Eleven: "A Discovery of Witches" by Deborah Harkness
I love anything witchy and occult aesthetic. 'Discovery of Witches' has that. I love the occult symbols on the cover, but that's all I really know about this book. I got it used for a very cheap price, so I don't regret buying it, and hopefully I'll read it soon (and it won't be another 'Beautiful Creatures.')
So those are my favorite covers on my TBR shelf! I did realize that I have very few covers that I like, so I feel better knowing that I'm not always drawn to a cover rather than the storyline because I have over 100 books that I didn't pick for this post.
Do you buy books strictly based on their covers? Which are your favorites? Let me know, I would see them.
- Hadley