"On Fire: a Teen Wolf Novel" by Nancy Holder
Updated: Feb 14, 2020
"In Beacon Hills, a mountain lion is blamed for a spate of vicious attacks; Scott McCall wishes the cause was that simple. Unfortunately, hiding his werewolf identity, especially from Allison Argent, while fighting his need to shift, is only one problem. Keeping his mysterious, murderous Alpha off his back (literally), avoiding hunters, deciphering strange dreams about flames and impending doom... is really eating into lacrosse practice and hang-out time. So when Jackson Whittemore doesn't show for his date with Lydia, Scott hopes that helping Allison track down their buddy will be simpler. Derek--- whose hunger for vengeance blinds him to the dangers that lie in wait--- and Stiles are also looking, but the worried teens' search is leading right to the preserve from Scott's nightmare. They aren't the only ones in the woods, and their little trip starts looking less like a rescue mission and more like an elaborate trap--- one that will force them to make the choice between killing and being killed...."
Click the image above to get your own copy at Amazon!
Nancy Holder is known in the literary world for her novel adaptations of TV shows, such as Buffy the Vampire Slayer and Smallville, which has made her the go-to author for popular teen shows. With her ability to mesh together a story with what is going on within the TV show, I'm not surprised that she was picked to adapt MTV's 'Teen Wolf' into a novel. Having only read this book by her, On Fire: a Teen Wolf Novel, is definitely a successful must-read for fans of the show.
Do you need to have watched the show to understand what is going on in the novel? Yes, because the book does backtrack, but unless you've watched at least season one, you will have no idea what is going on. But if you have watched the first season, On Fire will fill in the small gaps that was left out of the TV show's story without losing the characteristics of our favorite cast members.
This is a 'young adult' book, so you can expect the usual tropes like teen drama and romance - - - if you can get past that, the story can be enjoyable. The main characters are different enough to keep interest going, there are werewolves, and some men with guns. But I do have to say that I felt Allison's character was flat and boring in 'On Fire.'
The story gets underway when the main character, Scott, finds out that his girlfriend's best friend's boyfriend, Jackson, has gone missing. Scott and his girlfriend, Allison, decide to go look for him at the last place his phone's GPS blinked at, but Scott is using this just as an excuse to hang out with his girlfriend because Jackson is a sworn enemy of his. As I have said, if you haven't at least watched season one of MTV's Teen Wolf, you'll be pretty lost in the beginning of the story because there are no introductions to these characters, since it seems Holder was writing this specifically for fans of the TV show (I am a huge fan of the series, and highly recommend it to people who love mythical creatures, such as werewolves and banshees).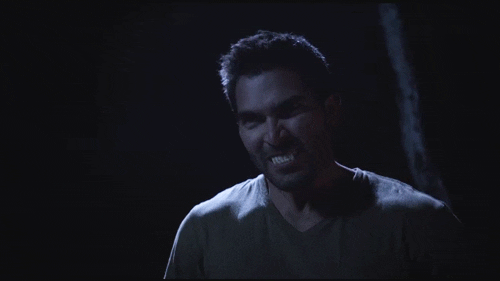 (One of the show's popular characters, Derek Hale)
On the other side of the story, viewers of the show get to see Derek Hale and Kate Argent's backstory, which Derek is a werewolf and Kate is a werewolf hunter, the two had a quick romance, but it turned out to be a lie on Kate's side. This side of the story will make fans of the show happy because the series only gave hints towards the fake romance between the two characters, while Holder shows us exactly what happened. From Derek meeting Kate when he is only 17-years-old, and she older, to her burning the Hale household to the ground with most of Derek's family inside of it--- because she hunts werewolves, of course.
Meanwhile, both Derek and Scott have been having nightmares about an Alpha wolf, that seems to either want both of them dead or to join his pack. Worse of all, Scott and Derek both end up at the forest preserve that the dreams took place in, which both feel another wolf presence while being there. Since they both sense this, they start to wonder if Jackson's disappearance is a trap set by the Alpha.
During all of this, Jackson's girlfriend, Lydia, and his best friend Danny, are also searching for Jackson or any clue as to why he suddenly disappeared, which this has nothing to do with what actually happens to Jackson in the TV series. I think the best parts of this book are the scenes without Scott and Allison, who spend the majority of the time trying to make-out while doing a half-ass job searching for the lost friend. As I said before, if you can get past the teen romance, the story is actually really good. Especially my favorite character, Stiles, who had the best description in the entire book: "Life in his[Stiles] head was accompanied by the soundtrack of a small, eternal, dull ache, but word was that would go away after a few decades."
If you have watched the show, you'll be glad to know that this book isn't just an adaptation of season two--- this one has a different story in it that wasn't in the show. Without giving too much away, we get a different glimpse of Jackson's personality and problems he has dealt with much of his life. The book isn't a necessary read for fans, but it gives us a little bit more of the Teen Wolf world to read about, such as introductions of new characters (like a high school girl named Cassie), who never made it to the TV series. While reading this book, it can tempt readers to go back or even start watching the MTV series. I warn you, though, once you start watching, you won't be able to stop. Binge fest anyone?
There were a few inconsistencies, and a whole lot of typos--- whoever the editor was, was apparently not paying attention, but the story is good and the characters are unique. I recommend this to people who have watched the series, and to those who love mythical creatures. But I do wholeheartedly recommend you watch season one before attempting to read this novel, otherwise, you will be lost!
- Hadley
My rating: